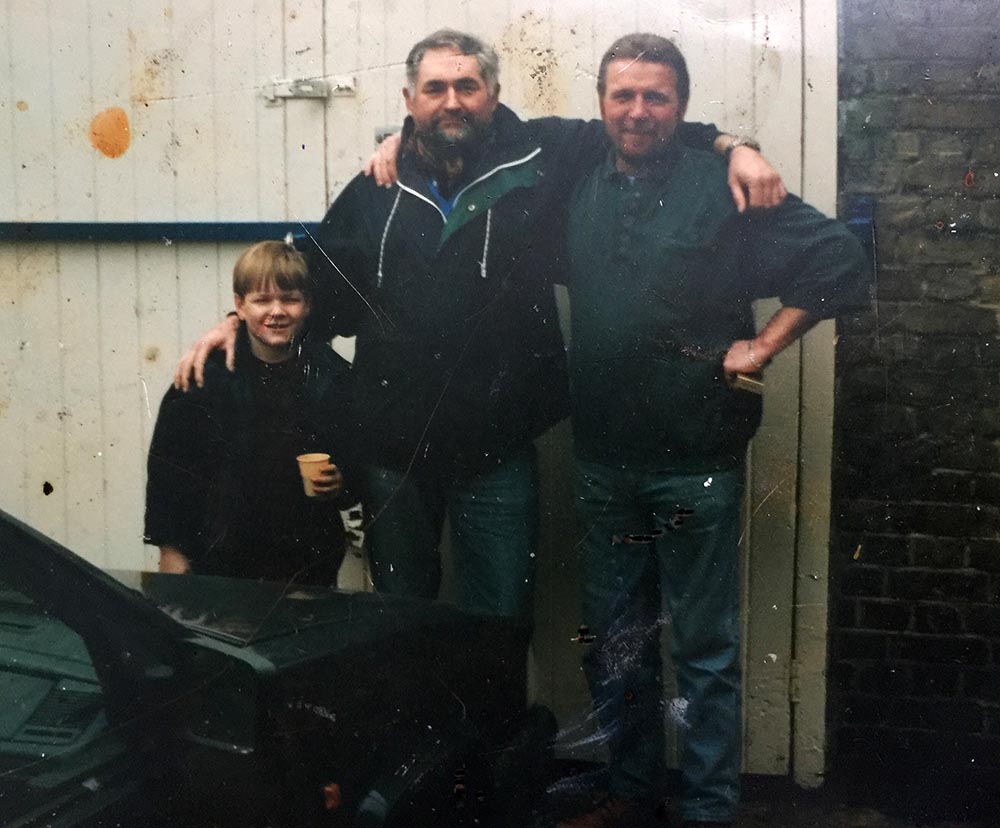 Cornwell and O'Neill, Blacksmiths: (from left to right) Danny O'Neill, Alan Cornwell, Peter O'Neill.
Born 1954, Peter O'Neill, aged 19, started out welding and creating objects with wrought iron and steel in a garden with his best mate Colin Cornwell. They then went on to working for Cubows Ltd., at the Docks in Woolwich; building, repairing tugs, trawlers and coasters until, in 1976, they opened up their first business together, called Cornwell & O'Neill based in Greenwich.
The business operated across two large workshops, which were based at 21 Greenwich High Road, and shared the yard with Mumford's old flourmill.
From a very young age I often went to work with my Dad at weekends and during the summer holidays. From going so often I could see how he played a key role in the community; anyone who passed by would stop to have a chat over the stable door, or a neighbour would just pop in to have their garden shears sharpened. I even remember the comedian Gareth Hale from Hale & Pace popping in one afternoon to talk about a job.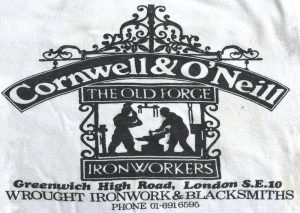 My Dad did a lot of work for the area, whether it was a small repair job or making a staircase, he enjoyed every minute and was very hard working. I would guess that most railings or gates in the area were most likely made or repaired by my Dad. Nothing proved this more then the week after his death, when two local people I had never met but came into contact with told me that they knew of him and one had window boxes made by him back in the early 80s.
Dad once told me about a job he did once for a high profile celebrity born in the areas (I won't mention his name!) Let's just say that since that day my Dad always called him "Tricky Dicky". My Dad made gates and railings for him but didn't receive payment so he went to the house and started to remove them. Out ran Tricky Dicky in his bathrobe shouting to find out what was going on and saying that Dad couldn't remove the gates and railings, as they were his. My Dad asked how they could be his when he hadn't paid for them? With that Tricky Dicky quickly paid his bill and my Dad left, leaving the gates and railings in place.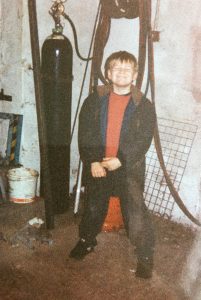 The workshop on Greenwich High Road was sold for redevelopment in 2000 so Dad moved up to Guildford Grove, where the business still operates from today under the name Greenwich Forge. Dad's work meant a lot to him but unfortunately, due to ill health over the years, he had to cut down on his time in the workshop – but even when he wasn't there he still continued to give great advice.
My Dad worked in the community for almost 40 years and made a big contribution to the area in that time. I am proud of the man he was and the work that he did. I have lots of fond memories of my time with him in the workshop and I hope that other people in the community will remember him fondly as well.
RIP Peter O'Neill 1954-2017