This short, sweet recollection of VE Day – still clearly engraved after 75 years – was sent in by a GHS member this morning on behalf of her elderly neighbour. Grateful thanks and best wishes to you both!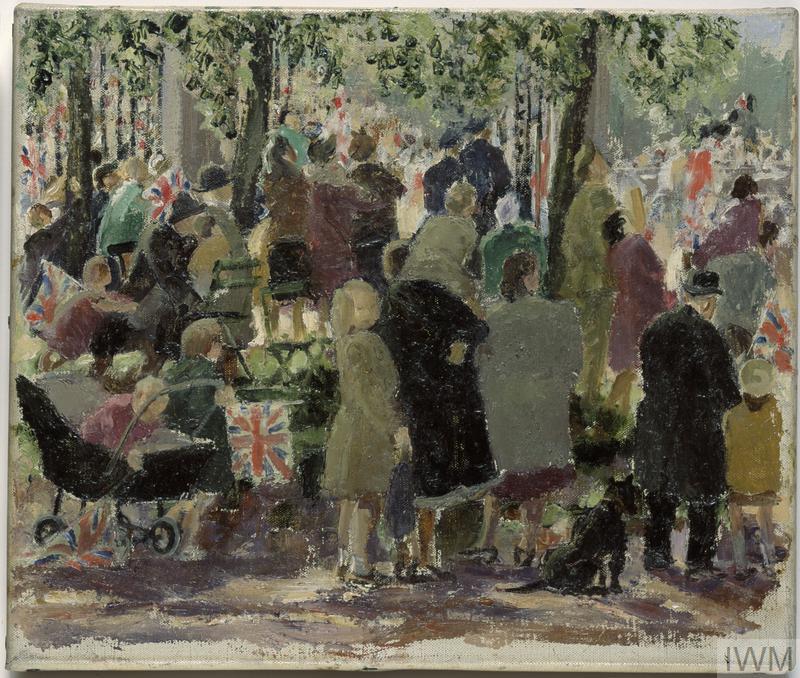 She was in the ATS and by 1944 was based at RAF Digby in Lincolnshire where she was a PT instructor and a switchboard operator. It was "all very jovial … we danced and danced and danced … not just on Victory Day'. The RAF station was home to the 'Arnhem boys, the D Day boys … everything was organised for them, … we waved them off – little did we know what they were going to."
She can't remember receiving the news of the end of the war but on 8 May suddenly everyone decided to go to London and to Buckingham Palace to see the royal family on the balcony. One of the ATS corporals was her 'minder' because she had recently been found to be underage (a friend had persuaded her to join up – and had filled in the form for her, lying about her age). She persuaded her corporal friend/minder to come with her and all the other girls to London. They took the train from Doncaster – "it was packed, jam packed with people … you didn't mind it if you stood all the way". They then followed the crowd when they arrived. "Food was being handed around, sandwiches and cakes and things. We elbowed our way round and had to hang on to each other; we were in uniform and so many hundreds and thousands were there, all in uniform as well…". They went first to Buckingham Palace, "along the Mall to see the King and Queen … That wasn't a five-minute job either. Then we just sort of wandered around and watched people dancing. Trafalgar Square – it was all dancing. Then to the Stage Door Canteen right in the heart of Piccadilly – we had been before many times when we had leave, we would always come to the Stage Door Canteen – doughnuts and coffee, fabulous music and bands. We then just danced all night; you could excuse somebody then so men would cut in all the time as you were dancing … We got back on the train the next day. You couldn't sleep at the YWCA which was full so we just stayed up all night … Memory is a wonderful thing!"
After she was demobbed she came to live in New Cross with the three other girls, then Deptford and moved to Greenwich in 1948 – when her rent was eight shillings a week.
You may also like to follow this link to a BBC World Service podcast of original sound recordings of broadcasts from 8th May 1945: https://www.bbc.co.uk/programmes/w3cszmtt