Greenwich Hospital, the freeholder of much of Greenwich town centre, has this week announced it has re-acquired possession of The Admiral Hardy and the adjacent Royal Clarence Music Hall, situated above the portico at the northern end of Greenwich Market. Greenwich Hospital's Director of Property Gillie Bexson states "This is a very exciting opportunity for Greenwich Hospital and we will be working closely with our advisers and the Greenwich community to secure a new operator and look forward to bringing Clarence Hall back to life."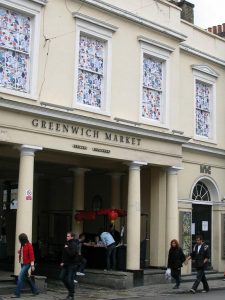 The Royal Clarence Music Hall took its name from its location in Clarence Street (now renamed College Approach) commemorating the Duke of Clarence, subsequently King William IV.  The architect was Joseph Kay, whose 1830s remodelling of central Greenwich is a masterpiece of Regency town planning. Kay's original scheme for the northern entrance to Greenwich Market was a single storey portico with a pediment above. This was subsequently altered and extended to first floor level in order to accommodate a large room that was first licensed for performances in 1839.
Music hall was the nineteenth century popular entertainment par excellence in which performers presented narrative songs, many comic but others of great topicality and poignancy, leaving behind a rich legacy of social history in song. Wilton's Music Hall in the East End, originally built in 1859 and rebuilt after a fire in 1878, is the greatest survivor of a grand music hall, but the Clarence, preceding Wilton's by twenty years, is a unique example of its humbler precursor- the simple concert room allied to a public house. This was known as a "free and easy" where, under the chairmanship of the landlord, tavern singing by the patrons was encouraged. Here most probably it was the Greenwich Pensioners themselves who got up and did a turn for the delight of the assembled company.
As the Greenwich Pensioners departed in the 1860s, the Clarence's audience inevitably changed and following the transformation of Greenwich Hospital into the Royal Naval College in 1873 it thereafter advertised itself as being "close to the College Gates". Presumably in order to attract a new clientele of trainee naval officers it was refurbished in 1875. A contemporary press advertisement proudly proclaims "this elegant hall, entirely redecorated; a new stage laid down 25 ft, by 12 ft.; a new Proscenium, new Balcony and Private Boxes." By this time it was styling itself the Clarence Music Hall and Bijou Theatre of Varieties and the artistes included Sarina, the boneless wonder from the Crystal Palace and Drury Lane Theatre. As the century progressed its fortunes waned, by the 1880s it "was principally used for dancing but occasionally as a music hall" until the Clarence finally closed in 1890.
The Royal Clarence is the hidden secret of Greenwich and is unique for being the earliest surviving purpose built music hall in London. As such it is of paramount local and national importance.
Is it too much to hope that the curtain could rise again on the Royal Clarence Music Hall and see it returned to its former glory and brought back to life as Greenwich's own Wilton's?
Although the Clarence would inevitably be a more intimate space, with a present day seating capacity estimated to be around 150, its restoration as a performance venue would return it to its original purpose and provide Greenwich with a public assembly rooms bang in the heart of town above the Market itself. If this idea fired the imagination and captured enough enthusiasm, it could once again become a place not just for performances both theatrical and musical, but also for dancing, film screenings, lantern lectures and entertainments of every description.
Physical evidence of the Royal Clarence's performing past is tantalisingly elusive. A pair of tickets, remembered to bear the date of 1839, were last sighted in a private collection in 1970. Where are they now? If you are able to throw any light on their present whereabouts, or indeed have playbills, ephemera, illustrations or photographs relating to the Clarence, particularly depicting its interior, please contact the Greenwich Historical Society.