Captain Tom – your "heroic efforts have lifted the spirits of the entire nation". Boris says so. Her Majesty sends her congratulations and best wishes, and so do I and all of us. £30,000,000, raised by your walk for the NHS, so far – the fund will probably keep rising till it closes at midnight tonight. Promoted Honorary Colonel. England cricketer. Top of the Pops, too. Etc., etc.
Ah, the power of 'pedestrianism'!
But time now to say farewell to (our other veteran pedestrian) Mark All. In this, the last episode of my peep into the life of Mark All, I want to look – in snapshot mode – at the period that stretches from 1908 all the way till the time of his death in 1925, using as illustrations some of the press cuttings that punctuate his long journey.
Mark All was a man of obsessive determination. That, and a handful of raisins were what sustained him. He walked, he said, on purpose; to prove a man was not finished at 45. Whether he walked as part of a wager remains unclear. As far as I can see he never seems to have picked up any of the prizes or rewards he said were involved. He carried on undeterred, setting himself a new target as the years and miles went by until eventually it merges into the one: the boast to have walked 350,000 miles.
But never on a Sunday!
Only once or twice does the courage of his conviction seem to fail him. Besides the general "It's the wet weather that tries me most", the sole example I can find of Mark All feeling sorry for himself is on July 25th, 1912 when he told the Royal Cornwall Gazette, "Yes Sir, my walking days are over. Ah! I am not the man I used to be. My poor old feet and my poor old eyes are failing me." Almost exactly a year later, on July 19th, 1913 he was in Sunderland where he told the Daily Echo that he'd set out in March that year intent on walking 5000 miles in ninety days throughout the British Isles. He'd been due to finish on June 6th, but bad weather had delayed him, and he arrived a day late. So he started all over again. 55 miles a day, 60 on a good one!
Nor did the war years, 1914-18, seem particularly to have hindered his progress. He seems, with the better part of valour, to have kept to British soil. The Essex Newsman of 22nd May 1915 had on its front page, for instance: "Mark All … had walked through France and was in Belgium previous to going through Germany last July, but acting on the advice of two gentlemen, whom he believed to have been German officers, he made his way back to England." Accounts differ though, some saying that he was often in France during this time. And the tale grows taller: "He has been over practically every inch of the present battlefields, and has tramped through large tracts of practically every known country. Once General French, the commander of the British troops, said to him, "You have been where I would really never dream of sending a detachment of men."
Mark All was 87 years old in 1915 when the West Sussex Gazette described him as "fit as a fiddle … He says he only eats two meals a day – breakfast and tea, and he smokes strong twist, "because there seems to be more nicotine in it".
In the years immediately following the war, news coverage goes quiet for a while, but then in the Twenties, as Mark All entered into his nineties and his pedometer showed he was approaching the 300,000 milestone, the news hounds began to take a renewed interest in him again.
Here, for instance, is a snippet from the Cambridge Daily News of July 27th, 1920. He'd recently been in Belfast where the man from the Irish Independent told him, "Oh, Mark, you must take that Union Jack off or you will not get back to England again: we shall riddle you". He escaped that hairy moment, but only the day before this interview tramping the road between Barnet and St Albans he'd had an unfortunate encounter with a motorcycle, the driver of which, he says, was drunk. He was run down and received a nasty shaking. "But I had my good old stick with me", he added with a smile, "and he did not get off free. I think people are off their heads since the war."
Nor was this likely his first or last run-in with the infernal horseless carriage. On October 12th 1923, Mark All called at the office of the Central Somerset Gazette and told how "only three weeks ago he was knocked down by a motorist, who drove on, though he had gone over the old man's foot and left him lame beside the road. But All is a philosopher and has no room for bitterness, so just plods on in the race between space and age. If he can hold out for the next 13,269 miles, he hopes to finish his long pilgrimage in London in April or May of next year, and at the age of 96 to take his hard-earned rest."
An entry in his diary written on his 95th birthday (June 11th 1923) reads: "Since August 6th 1900, I have walked 356,000 miles. Finished in Exeter. Now got to walk to London to get my reward"
Come March 1925, however, it is apparent that the end was approaching. The West Sussex County Times on Saturday the 7th described how "Increasing years have told on the old man, and certainly he cannot do much more walking. The upright carriage of years ago has been replaced by the stoop of old age. and laboured breathing, too, has a tale to tell. But Mark All, still clear-eyed, and with ruddy cheeks from exposure to the air, is nevertheless a wonder."
The same article gives a neat resumé of his long journey thus far, reminding its readers that: "It was on the 6th August 1900, that he left Fleet-street, London, to walk 225,000 miles in 16 years. On this tour he passed through the five continents, visiting the chief places five times. In the British Isles he visited every town and city 17 times, completing the distance at London on Aug. 2nd, 1916. Then, being unable to go abroad, owing to the War, Mark undertook to walk 25,000 miles in the British Isles, to bring his total in eighteen years to 250,000. Subsequent visits to Horsham showed totals as follows: June 8th, 1918, 252,287 miles; October 5th, 1918, 257,603 miles: October 18, 1919. 273,590 miles; July 10th, 1920. 287,502 miles; July 30th, 1921, 304.000; June 10, 1922, 316.000; September 1922, 318,000; October 1924. 352.000 miles … we can only repeat what was said in these columns on July 30th, 1921: "it is to be hoped he will at last enjoy the rest so well deserved and so hardly won."
Having worn out 140 pairs of boots, Mark All died a pauper's death at Shirley Warren Poor Law Infirmary, Southampton, on or about 31st March 1925, his identity only revealed afterwards when his papers were examined. A dozen or so of the provincial newspapers, to whom he was a familiar visitor, noted his passing in brief notices, one of them, The Beds and Herts Pictorial and Tuesday Telegraph, 7th April 1925, noting, "Whether the veteran ever got his £3,000 I don't happen to know. The gentleman [Alfred Harmsworth / Lord Northcliff] to whom he looked for it died before the walk was completed, but when Mark last called … he was very sanguine about claim being met … Like most 'gentlemen of the road', Mark could draw the long bow when a favourable opening offered, but, all the same, he was a remarkable old personality."
The sweetest valediction I found is this one, penned by 'ONLOOKER' in the Exeter and Plymouth Gazette of Friday 3rd April 1925:
"Poor old Mark All, the veteran walker, has come the end of his long journey at last. He died this week in Southampton Infirmary at the age of 96. In the course of his itinerary the old man passed through Exeter on several occasions, and one was never quite able come the conclusion whether he was the victim a hoax or whether he himself a hoaxer. Mark's journeys were genuine enough, and he had padded the hoof over greater part Europe. But, time after time, he came round with a tale that was completing journey for a wager, and that his success would provide means enough for retirement from the road. When he was just on 90 he told me he was he was getting very tired and old, and that I had seen him for the last time. But he turned up again quite cheerfully twice after that and told the same old story, and, of course, wanted his book signed so that he could show "his people" he had done his journeys. He was quite an entertaining old fellow, and related interesting stories of famous people had met, from the late King Edward to the Russian brigands who once laid him out for dead. He never begged, but his stories usually resulted in his getting the small amount cash needed to speed him his way. Tall and straight, with a long white beard, he might well have been taken for the Wandering Jew. But in conversation he demonstrated pretty clearly that he was a Briton of the Britons. He had been out his country quite enough to appreciate that it was the finest on earth. The fascination the road was upon him to the last and now he has reached the end the trail, may travel a beautiful highway where, to quote his own words, there will be no "bloomin' motor cars choke an old follow with dust".
RIP, Mark All. I will admit I misjudged you when first we met. I should have known better; that someone born in the reign of George IV and who survived into the reign of George V could hardly be dismissed as ordinary. Sorry! I thought you were a tramp of the old school vagrant sort. I rather jumped to that conclusion. It took time, but eventually I recognised your innate nobility by the pride you took in your neat appearance. So too, the determination and fortitude you demonstrated right to the end and, "gainst all disaster'. Your blackthorn stick taught me that. These eventually revealed the error of my ways.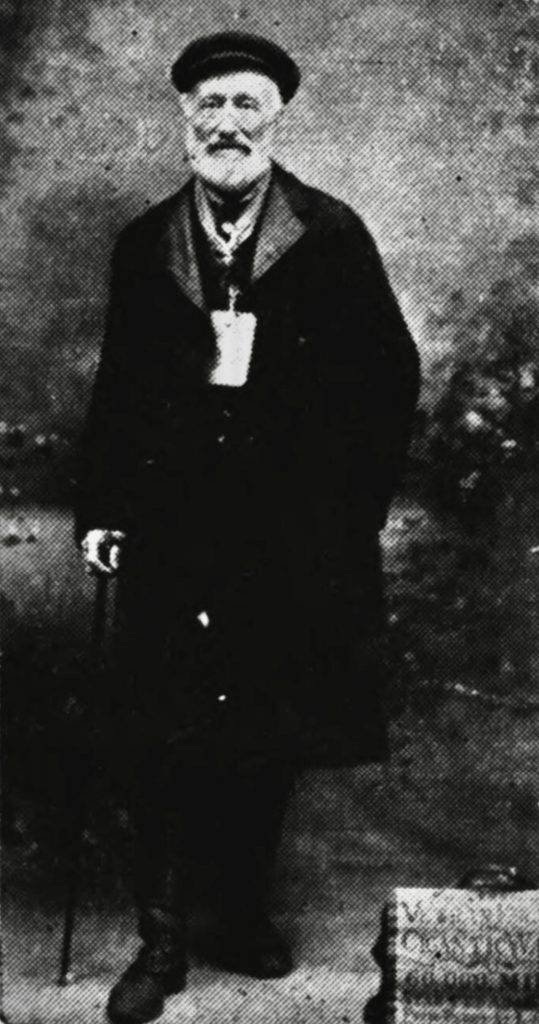 I would like to think that you picked up your reward, and if not in money, then perhaps by setting the example that others have later followed – including, if this is not altogether too far-fetched, Captain, now Colonel, Tom Moore himself.
I leave off therefore, with his words today:
"People keep saying what I have done is remarkable, however it's actually what you have done for me which is remarkable.
"Please always remember, tomorrow will be a good day."