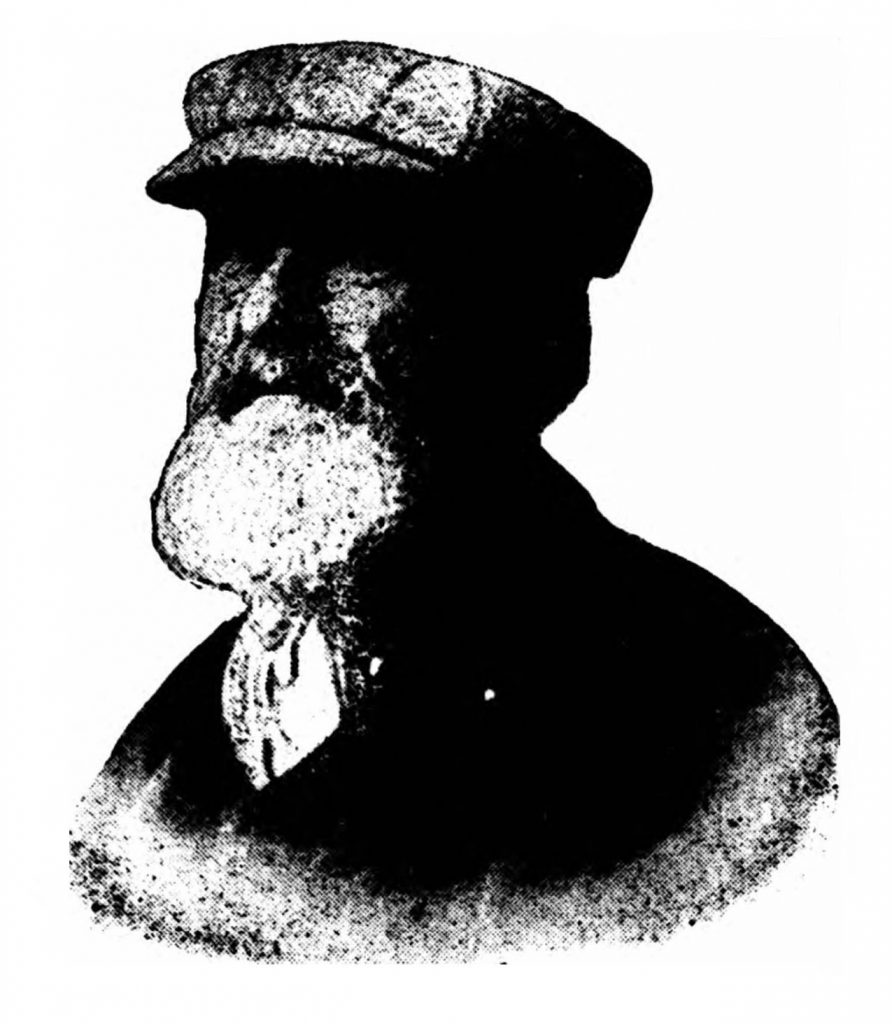 In my last post I wondered out loud if the book of cuttings, pen and ink sketches and diary that Mark All is known to have kept could possibly have survived. My wish that they might one day turn up has now come true. In future I shall perhaps be more careful what to wish for, as I shall reveal below.
First of all, this chapter opens in the years 1907-1908, the time when Mark All completed his first challenge – 'sixty thousand miles in seven years' – and then set out on his next marathon effort: 100.000 miles by August of 1910…
The Staffordshire Sentinel of Saturday 22 February 1908 reported that Mark All had:
'covered the distance of sixty thousand miles within six months of the stipulated time, finishing on February the 14th, 1907.'
There's no mention here (so far as I know) of any reward or prize being collected, only that,
'On the 20th of March following, after taking a month's rest, he started another 40,000 miles walk: and towards this he has already catered 15,390, making the sum total of the mileage 75.390, thus beating the world's record, held by a German by 35.390 miles.'
The Sentinel article concludes:
'He expects to cover his 100.000 miles in August of 1910, which represents a period of eight years and, ten months since starting on his marvellous itinerary … Although eighty years of age in June next he still walks at the rate of five miles an hour. His record speed is 56 miles in 6 hours, between Canterbury and London.'
Harking back a few months to the early summer of 1907, we strike a pot of gold I mention. In a quite substantial article written by a grandly-named Yorick Gradeley. It was published on May 4th by the Weekly Irish Times under the title: LEAVES FROM DIARY OF MARK ALL. And here we get some insight into the personality of the man himself.
First though, let me quote the words of Yorick Gradeley himself who goes out of his way to state: "I have not attempted to preserve any sequences in collating extracts from a diary, which, however trite its entries may be, are fraught with great moral and political significance on account of the strong personality of the writer, and the circumstances under which he wrote. He was not a masquerading journalist in search of sensational 'copy,' but a working man, toiling and suffering amongst his fellows, and toiling and suffering for them. He had facilities for getting to the very heart of mankind that a more cultured seeker after truth would inevitably have missed." I, too, should point out that I, have taken the pruning hook to what is otherwise is a long piece with many repetitions made to reinforce a point
In short, Mark All was no ragged-trousered philanthropist. At a glance, one suspects he did not pay his dues to the Social Democratic Federation, ILP or any other party of a socialist persuasion that was rising through the ranks at this time. Rather, says Gradeley, "The dominant note struck by our wayside philosopher is one of agonised misanthropy." But then, it's not that simple. Read on .
The article begins: 'On the 6th of August 1900, an old man, with a little bag of tools slung over his shoulder, and a brindle bull dog by his side, went forth from Fleet street, London. On St Valentine's day, 1907, the same old man paced once again the classic thoroughfare of Pressland …
'… There was nothing suggestive of heroism or triumph in Mark All's home-coming, and yet he is a hero; he has, indeed, achieved triumph – a great physical and industrial triumph, and therefore I rejoice to hear that he is to have an audience with the King. Walking has evidently become a ruling passion with him now.'
On March the 20th he called again at my office bid me good bye. He could not rest, he said, so he has set forth on another great tramp, intending to complete 100,000 miles by 1910 …'
Then, (here's the business of the day).
'Mark All himself [keeps a] very fascinating log book wherein he was wont to jot down his thoughts by the wayside, and which is now in my possession.'
And so he begins to reveal Mark All's (as it turns out, rather dim) outlook on life. For instance, "It would surprise any thoughtful man," he notes, "to go into a lodging house of a Saturday night and Sunday morning. There he will see the material the so-called British workman is made of … The best time to see this undesirable class of inhuman being is a Sunday morning after Saturday night's booze. It is fact they are no good to themselves or employer at 25, say nothing about 45 years of age. Yet they call themselves British working men. I know a legitimate workman, as I do a bird by its note and actions. Very few will you find in lodging house long."
"Many, many times", Mr Gradely assures the reader, "the poor old fellow well nigh threw up the sponge, but the courage of his great purpose always sustained him, and a spark from the Divine anvil would ever and anon destroy his cynicism".
Over and over again occur entries such these:
"I cannot live alone on air. I must have food and rest to accomplish my gigantic task, which I sincerely hope to do. I want to play the part of man under every circumstances."
''I am a Methuselahite. My religion is to live as long I can and do all the good I can my fellow-men. I want to leave a name behind that will not perish."
[Every now and then Mark bursts forth into poetry, much of it of the mawkish sort, but sometimes with a touch of levity].
"If money talks, it ain't on speaking terms with me.
I'd like have a shilling shake my hand and say "How do!"
I'd love to hear a five pound note say, "I belong to you."
Several of the entries in the diary are made up of remarks on the towns he had visited on his excursion. Few are flattering, most give a jaded opinion. Here's a few notes on places he visited whilst in Ireland that year.
Wicklow: "A very dull, sleepy town with very little or no life work in it. The people, what few there are, seen have lost all activity for themselves or thought for others."
Waterford, July 15, '06. "It seems to be a business city, but a very large number are out of employ. One half don't want work … or won't [work] long."
Cork City, July 16. '06. ''(Treachery in this place). The farther you go South, the worse trade and poverty. Although this is large city, and you should able to find plenty of employment, people seem to be very dull, but not for self. Drink is the stumbling block to progress."
Dublin: "I shall never have Dublin people to thank for their help to me, or hospitality. I do think I might drop down dead before any notice would be taken. I have had four nights' lodgings, costing 2s., and 1s. 6d. have kept me from 10th July to 21st, 1906, and have walked to Queenstown and back, a distance 342 miles. One pound of raisins, costing 6d., has been my sole diet. I daily find my machine giving way. Help must come. May God help the man that is poorer than myself this blessed day."
He evidently met the proverbial friend in need at Belfast – "The only friend I met, when I arrived in Belfast was the manager of Carrick House, Lower Regent street. I put up there for the night – bed, 6d. A very comfortable place, indeed, and I was very grateful for the good tea he gave me; a right good man in the right place."
"But the most interesting passage in the old pedestrian's diary", says our hack, "are those wherein freely comments upon the social problems of the age. His observations, thereupon, are very valuable, says Gradeley:
'The very best museum outside London, he reckoned he found at Liverpool, and after a visit thereto he writes, "If working men were to study works of art and virtue a bit more than they do, it would better for them and the country. Things would soon change for the best."'
On the subject of intemperance, a visit to Leeds prompted this observation – " Drink and horse-racing is hum-bugging the working classes of this country."
The so-called 'model lodging-houses', even the much vaunted Corporation 'hotels' of Glasgow, or the 'Rowton Houses', built by the Victorian philanthropist Lord Rowton to provide decent accommodation for working men in London and elsewhere, seldom escape his censure.
"Without doubt respectable lodging houses are much needed in the British Isles and Ireland. It only in large cities that clean and comfortable beds can be found (and that not always) at sixpence per night. Often the so-called model lodging house is hot bed of vice and filth, where crime is manufactured and the police know it, and in many places visit the house nightly. There ought to in every town a respectable lodging house, where a respectable man seeking employment could find accommodation at 6d. per night, and not be compelled to mix up with the lowest class animal of the earth. To a thoughtful man, to be in some of the dens I've been in is cruel death, and worse than murder. On Sundays, a so-called religious service is held. What dreadful hypocrisy to God!"
He throws important sidelights upon the labour problem: "I am truly sorry that not all who are out of employment are bona fide working men, and not all who are on the road are aliens and strangers to work … Charity is not wanted. Bustling through this world are many millions of atoms calling themselves men and women, for the most part not knowing and not caring one solitary straw about each other – only self."
"The poor law of this country is a very uncharitable law, which dubs a man 'pauper' indiscriminately, be he a tramp or loafer, or be he honest, old, and poor; although, perhaps, he has paid rent and rates all his life till he has no more strength for work, or money for food and house-shelter."
"I rejoice to learn that this industrial "Pilgrim's Progress" was not undertaken all in vain". Says Gradeley in his conclusion. "Doors that were closed to the elderly artizan [sic] have been reopened, and the Rubicon that Avarice raised has been partially broken down. We do not hear so much as formerly of men being turned adrift when in the full vigour of manhood, simply because without being personally consulted in the matter, they happened to be born too soon. In this reform Mark All has played a great and a noble part … Oh good old man".
Yorick Gradeley? That sounds like a name to conjure with. I must look him up. I wonder what else he wrote?
You can, if you have the wherewithal, read Yorick Gradeley's article in full here: https://www.britishnewspaperarchive.co.uk/viewer/BL/0001684/19070504/100/0016?browse=False