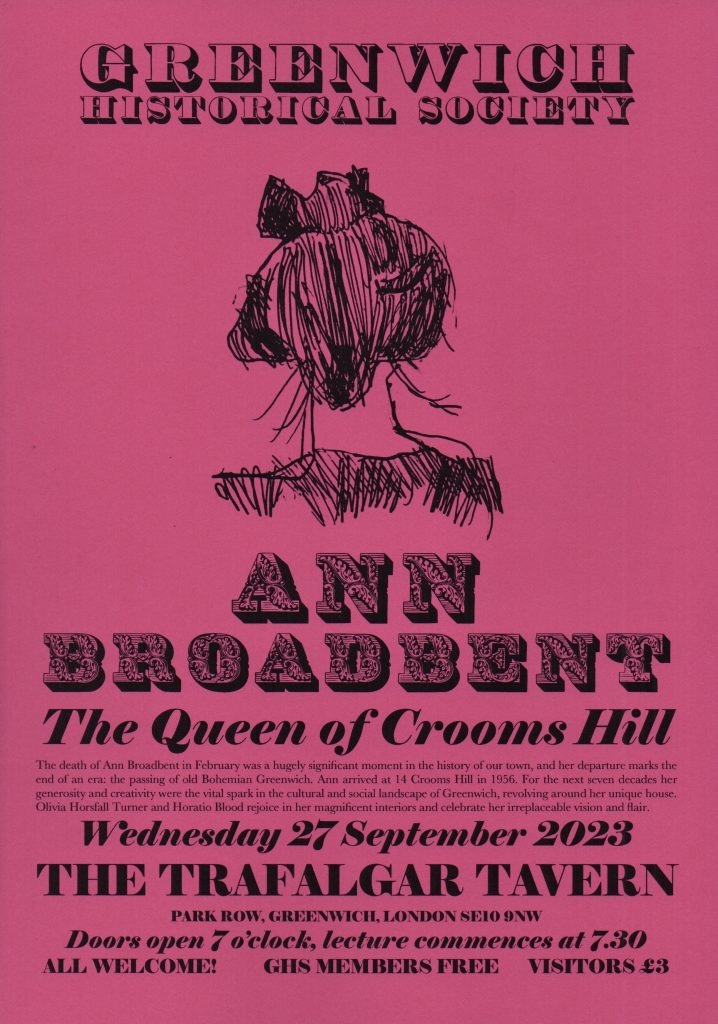 WEDNESDAY 27 SEPTEMBER
 Doors open 7pm, talk commences 7.30.
THE TRAFALGAR TAVERN, PARK ROW, GREENWICH, SE10 9NW
The Greenwich Historical Society's autumn lecture programme commences on Wednesday 27 September with a celebration of the glorious memory of Ann Broadbent, the Queen of Crooms Hill, whose death in February was a hugely significant moment in the history of our town. Ann's departure marks the end of an era: the passing of old Bohemian Greenwich. Ann arrived at 14 Crooms Hill in 1956 and for the next seven decades her generosity of spirit and creativity were the vital spark in the cultural and social landscape of Greenwich, embracing an unerring eye for colour and pattern, skilful artistry for baroque juxtaposition, celebrated garden parties and memorable tours of her magnificently decorated house. 
I am delighted that our guest speaker will be Dr Olivia Horsfall Turner, Senior Curator of Architecture and Design at the Victoria and Albert Museum, whose article on Ann's house for The World of Interiors can be viewed here to whet your appetite:
https://www.worldofinteriors.com/story/crooms-hill-ann-broadbent
TO CELEBRATE ANN'S LOVE OF PARTIES, VISITORS ARE INVITED TO DRESS COLOURFULLY!
Members of the Greenwich Historical Society admitted free.
We warmly welcome visitors from whom we invite a donation of £3.
Bus routes 129, 177, 188, 286, 386 run along Trafalgar Road.
Free car parking after 6.30 in the Park Row car park.